Kaga-Yasai: Indigenous Vegetables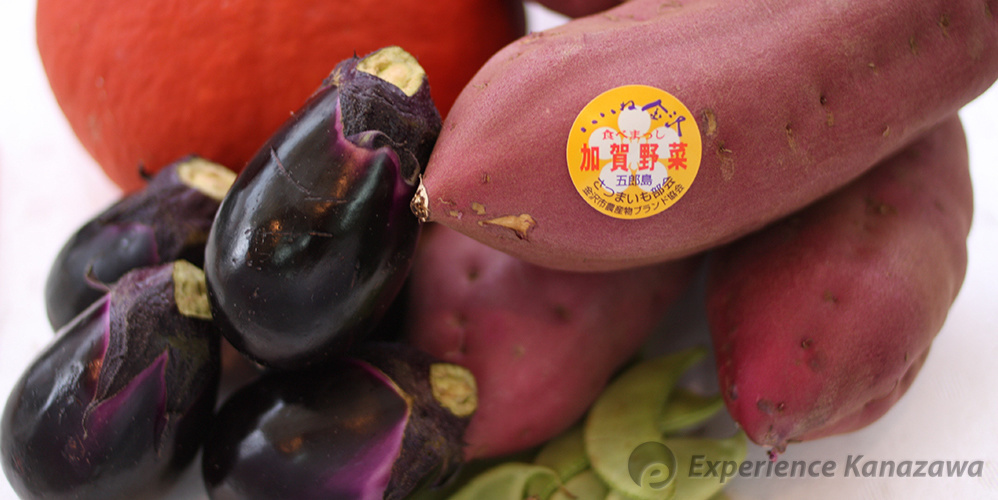 Traditional vegetables, ones that had almost been forgotten!

Once upon a time, many kinds of indigenous vegetables were cultivated in and around Kanazawa during the feudal era. Since consumers controlled the market, the farmers were forced to bend to their demands. Japanese people are well-known for being choosy about the appearance of fruits and vegetables, perhaps sometimes going overboard. They requested special seasonal items throughout the year. It was difficult for agriculturalists to breed general produce which could adjust to mass production or maintain durability. Eventually these traditional products couldn't satisfy the demands of consumers and were phased out of the marketplace.
In 1997, breeders, agriculturalists, local stores, and governmental administration started to reproduce these indigenous vegetables as official "Kaga-Yasai" branded products. So far, 15 types of vegetables have been authorized, all of them having been cultivated before 1945. The vegetables are grown through traditional processes, but the methods for mass production aren't as traditional. They all are harvested throughout each season.
We have four seasons in Japan, as I'm sure you know. I've heard that seasonal vegetables are good for our bodies. For example, it's said that many vegetables which are harvested in the summer, such as tomatoes or cucumbers, can make our bodies cooler. On the other hand, the winter ones like root-based vegetables can keep our bodies warm. Therefore, eating the proper vegetables during the right season is quite sensible. These Kaga-Yasai vegetables are definitely worth eating for many reasons!

Coco SHIZUO, Artex Inc.; Updated June 1, 2018
Takenoko:
Bamboo shoot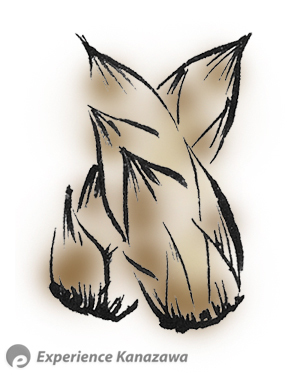 [Season: Apr - May]
In 1766, the first 'moso' bamboos were cultivated in Ishikawa prefecture. We call bamboo shoots "Takenoko", which literally mean baby bamboos. Takenoko dishes utilized fresh local bamboo shoots are in season during the spring.
Kanazawa Shungiku:
Shungiku leaf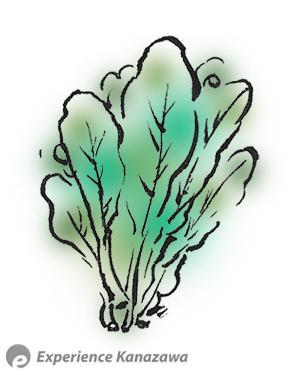 [Season: Oct - Apr]
It's said that this vegetable has been cultivated since the feudal era of the fifth lord. It has a thick leaf with a unique aroma.
Gensuke Daikon:
Daikon radish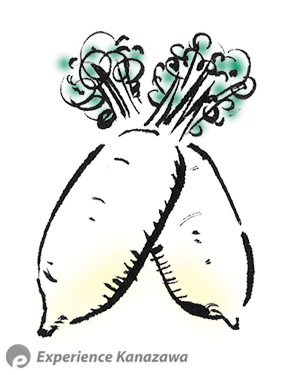 [Season: Oct - Feb]
Gensuke Daikon radish has been cultivated since the feudal era of the fifth lord. It has a thick leaf with a unique aroma.
Kaga Futo-Gyuri:
Cucumber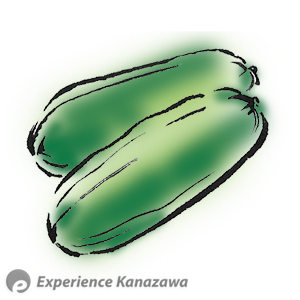 [Season: Apr - Nov]
The original seed is from a pickling melon, obtained in the Tohoku region. Kaga Futo-Gyuries are bigger than normal cucumbers. They have a diameter of 5-7 centimeters, are 22-27 cm long, and can sometimes be an entire kilogram! They're mainly used for stews, soups, or steamed dishes.
Heta-Murasaki Nasu:
Eggplant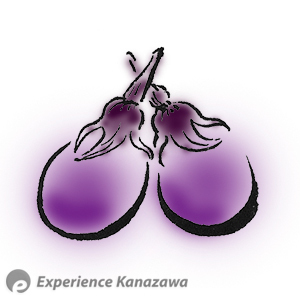 [Season: Jun - Oct]
The origin of this vegetable is unknown. Although most of the eggplants in Japan are quite long and thin, this one is short and round, like an egg! The name "murasaki" refers to it staying purple under its calyx. It has its thin peel with a juicy taste.
Kaga Tsurumame
Hyacinth bean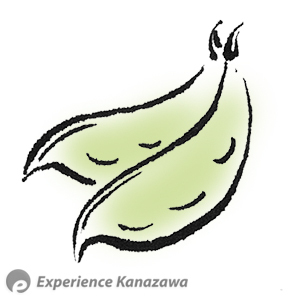 [Season: Jun - Oct]
In Ishikawa it's also known as "Dara-mame (idiot bean)", due to it being easy to grow for anyone, even idiots. We eat both the bean and the shell. It's often simmered with some other ingredients.
Kinjiso:
Gynura crepioides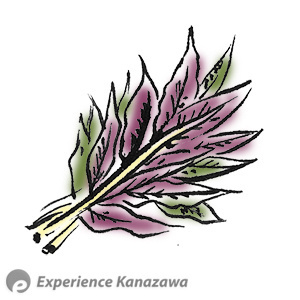 [Season: Jun - Nov]
It's on record that this vegetable has been cultivated since the Edo period. Once it's boiled, it becomes slimy. Good for vinegared dishes, tempura, and much more!
Amaguri
Kabocha:
Pumpkin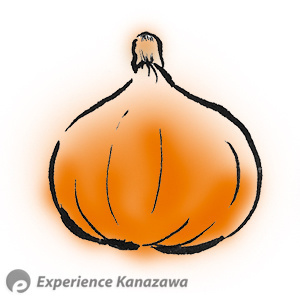 [Season: Jun - Sep]
This pumpkin looks like a chestnut, with a taste also similar to it. It has a beautiful color, thick skin, and tastes sweet. Good for any dish or dessert.
Kuwai:
Arrowhead bulb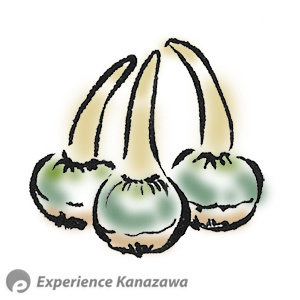 [Season: Nov - Mar]
Kuwai has been cultivated since the feudal era of the fifth lord. It sure has an interesting shape, and is a bit similar to yam. However, kuwai has a slightly bitter taste. Served as a simmered or deep fried dish.
Gorojima Kintoki:
Sweet potato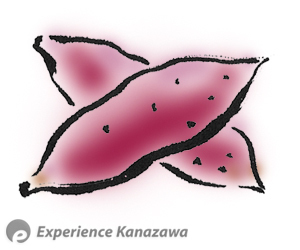 [Season: Aug - Jun]
This sweet potato is the most famous vegetable in the Kaga-Yasai group. Gorojima is the district name where it's produced. It's well-known for having a higher sugar content.
Aka-Zuiki
:
Stem of taro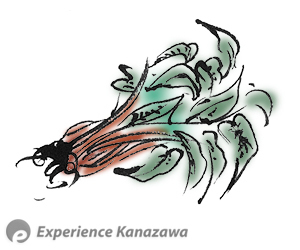 [Season: Jul - Sep]
It's rich in dietary fiber and mainly used as a vinegar for dishes. The dishes go well with alcohol. Enjoy the beautiful color with Japanese Sake!
Kaga-Renkon:
Lotus root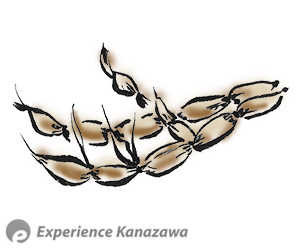 [Season: Nov - Dec]
Hasumushi is the most famous of the local dishes made with this lotus root. It's slimier than typical lotus roots. It's also quite delicious as a tempura!
Seri:
Japanese parsley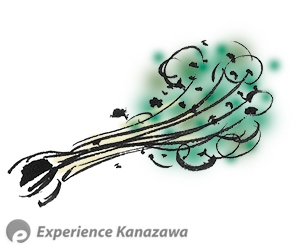 [Season: Nov - Apr]
Originally a wild vegetable, it started to be cultivated during the Meiji era. Usually served in a soused or simmered dish.
Ippon-Futo-Negi
:
Green onion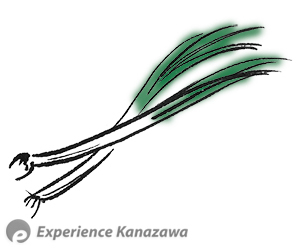 [Season: Nov - Jan]
The origin of this vegetable is unknown. It has a long and thick white stem, with a sweet taste. It's often used for hotpot disheslike Sukiyaki.
Futatsuka Karashina:
Mustard greens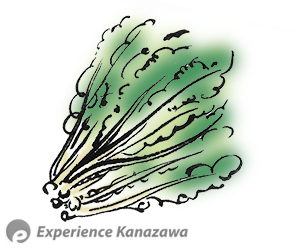 [Season: Nov - Mar]
Although the origins are unknown, it used to be grown between the Taisho era and the beginning of the Showa era. It has a spicy taste similar to wasabi ginger.